Oakland Raiders Team History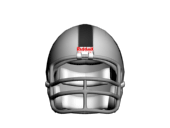 The American Football League was formally organized on August 14, 1959. However, the Oakland Raiders did not become the eighth member of the new league until January 1960, when they were selected as a replacement for the Minneapolis franchise, which defected to the NFL. A major initial stumbling block was the lack of an adequate stadium in Oakland. Until the 54,616 capacity Oakland Coliseum was opened in 1966, the Raiders had to play in Kezar Stadium and Candlestick Park across the bay in San Francisco and in a temporary stadium, Frank Youell Field, in Oakland. Oakland's record for the first three years was a miserable 9-33-0. Average home attendance was just under 11,000.

Then in 1963, the Raiders hired a San Diego assistant coach, Al Davis, as their new head coach and the reversal in fortunes was both rapid and dramatic. From a 1-13 mark in 1962, Oakland improved to 10-4 in 1963 and Davis was named the AFL Coach of the Year. Since that time, the Raiders' destiny has been the exclusive responsibility of Davis, who left the team only briefly for a short term as AFL commissioner in 1966.

After the AFL-NFL merger was completed, Davis returned to the Raiders as managing general partner and immediately transformed the Oakland franchise into one of pro football's premier organizations. Starting in 1965, the Raiders posted winning records 19 of the next 20 years. During that period, they won 12 divisional championships, the 1967 AFL championship, AFC championships in 1976, 1980 and 1983 and victories in Super Bowls XI, XV and XVIII. The Raiders are also the only team, NFL or AFL, to play in the Super Bowl in the 1960s, 1970s and 1980s.

In the 30-year period dating back to when Davis took over in 1963 up through 1992, the Raiders' winning record of .661 with 285 victories, 146 losses and 11 ties ranks as the best among all major sports teams. The Raiders also have dominated the Monday Night Football series with 30 victories (more than any other team) and a tie in 41 appearances.

While Davis stresses "Commitment to Excellence" for his entire organization, some of the Raiders' unprecedented success can be attributed to outstanding individual players and coaches who have worn the Silver and Black. In addition to Davis himself, eleven players -- Jim Otto, George Blanda, Willie Brown, Gene Upshaw, Art Shell, Fred Biletnikoff, Ted Hendricks, Mike Haynes, Howie Long, Dave Casper, and Marcus Allen -- have been elected to the Pro Football Hall of Fame. Five Raider coaches have been named either AFL or NFL Coach of the Year. In addition to Davis, they are John Rauch, John Madden, Tom Flores and Shell. The Raiders made headlines of a different nature when they moved from the Oakland Coliseum to the more spacious Los Angeles Coliseum in 1982. After 12 seasons in Southern California, the team moved back to their original city.